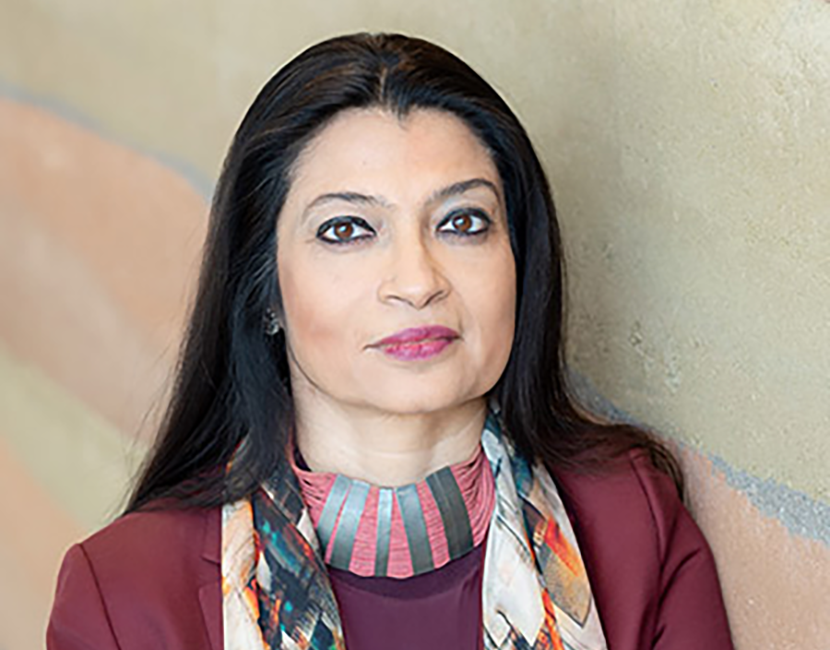 Dr. Ananya Mukherjee
Dr. Ananya Mukherjee took charge as Vice-Chancellor of Shiv Nadar University, Delhi-NCR on 31 January 2022.
Prior to joining the University, Dr. Mukherjee served as Provost and Vice-President Academic at University of British Columbia (UBC), Okanagan Canada and Professor in the Department of Economics, Philosophy and Political Science. In 2020, Dr. Mukherjee was appointed Co-executive lead for Anti-racism at UBC.
Dr. Mukherjee obtained her doctoral degree in Political Economy & Public Policy from the University of Southern California, USA and her BA and MA degrees in Economics from Jadavpur University, India. Her scholarly work, especially since 2008, has sought to contribute to theories of alternative development, with a focus on the theme of justice. She has contributed to discourses in the fields of Development, Public Policy, Transitional Justice, Corporate Governance and Gender Studies. Her work on development has appeared in books (single-authored and co-edited), journals, research reports and in popular media and in multiple languages.
In 2003, Dr. Mukherjee became the Founding-Director of the International Secretariat for Human Development (ISHD), at York University, Toronto, where she worked previously. Under her leadership, ISHD collaborated with leading international institutions such as the International Labour Organization (ILO), Geneva; United Nations Office for Project Services (UNOPS), Rome; United Nations Development Program (UNDP); and the United Nations Research Institute for Social Development (UNRISD), Geneva. Dr. Mukherjee's current research projects aim to continue this work. One of her projects focuses on the role of universities in an unequal and fractured world. At its initial stages, this project is being undertaken in collaboration with the UN Research Institute for Social Development (UNRISD), Geneva. This project is bringing together authors from the Global South to engage collectively in a cross-national visioning about the role of universities in relation to the Sustainable Development Goals.
Prior to joining UBC in November 2018, Dr. Mukherjee spent more than two decades at Canada's third-largest university, York University in Toronto, where she undertook many leadership roles. Most recently she was Dean of the Faculty of Liberal Arts and Professional Studies (2015-2018). This is the largest liberal arts Faculty in Canada, with a vibrant community of 23,000 students, including 3,000 international students from 123 countries. She also served as Associate Vice-President Research in 2014 and as the Chair of the Department of Political Science (2011-2014).
Public engagement has always been an integral part of Dr. Mukherjee's scholarly work. She has written and commented frequently in the media and has been interviewed by the Toronto Star, Los Angeles Times, Seattle Times, BBC online, The Hindu, Radio France, TV Ontario, the CBC, OMNI TV, and others. Both at UBC and York she conceptualized and launched several public engagement events such as the Festival of Ideas, Asian Heritage Month celebrations and a webinar series on addressing systemic racism.
Dr. Mukherjee is a great believer in the power of culture and creativity to forge communities across geographic and other divides. An avid lover of poetry, Dr. Mukherjee passionately promotes the works of Asia's first Nobel Laureate, the poet and philosopher Rabindranath Tagore.
In 2021, Dr. Mukherjee was selected as one of Canada's Most Powerful Women: Top 100 2021 award winners (WXN). In 2018, she was recognized as a Distinguished Alumna by the Jadavpur University Alumni Association (Toronto chapter). In 2016, she was named as one of the five brilliant women from academia by Canadian Immigrant magazine in their Third Annual Tribute to 'Immigrant Women of Inspiration.' In 2016 she was also honoured as a Pioneer of Change and for Excellence in Social Impact by Skills for Change, Canada.