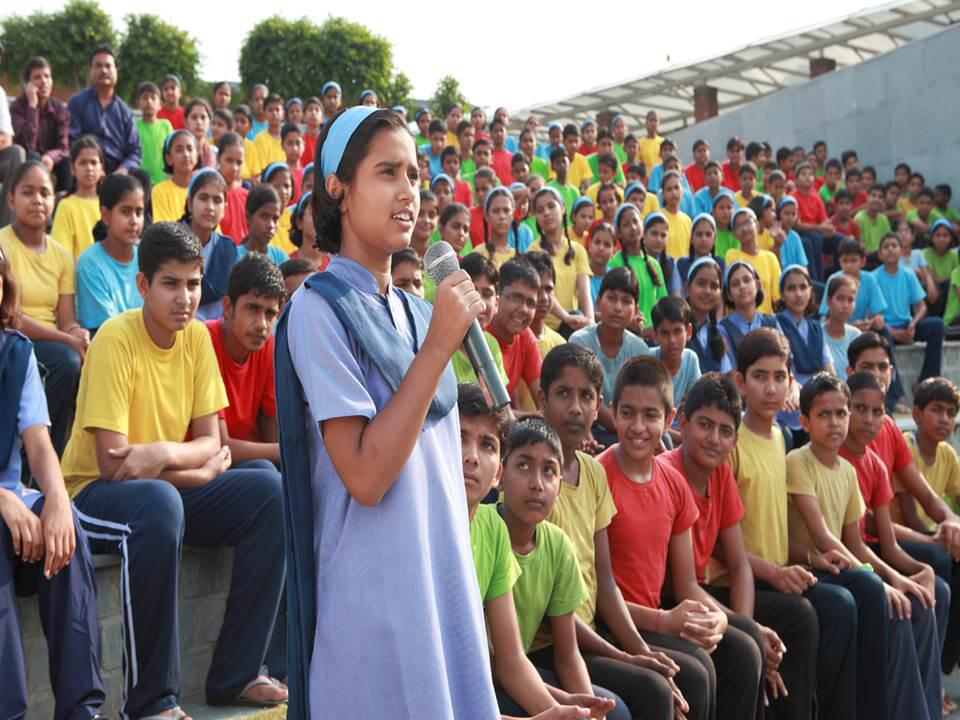 Privacy Policy
This Privacy Policy explains how Shiv Nadar Foundation (hereinafter Foundation/We) will collect, use, disclose and transfer your information when you use SHIKSHA Initiative Application which is used to deliver educational content, activities and other similar services via the Android based Smart Television & Tablet Application. This Privacy Policy forms part of the Terms of Use for the SHIKSHA INITIATIVE APPLICATION (hereinafter "Application").
This page serves to inform visitors about the policies concerning the collection, use, and disclosure of personal information if anyone decides to use the Application.
By choosing to use the Application, you agree to the collection and use of information in accordance with this policy. The information that is collected is used only for the purpose of improving the Application. The information so collected shall not be shared with any third party except for as provided by under this Policy, without the prior permission of the information Provider.
Applicability of the Policy
This Policy applies only to the information collected through the Shiksha Initiative Applications.
We have taken reasonable precautions as per the applicable laws and implemented industry standards to treat Personal Information as confidential and to protect it from unauthorized access, improper use or disclosure, modification and unlawful destruction or accidental loss of the Personal Information
Personal Information
"Personal Information" shall mean the information which identifies a user by its first and last name, identification number, email address, age, gender, location, photograph and/or phone number etc. provided at the time of registration or any time thereafter on the Webpage/Application.
We request you to not provide the Foundation with any Personal Information unless specifically requested by us. In the event you share with the Foundation any Personal Information without the Foundation having specifically requested for the same, then we bear no liability in respect of such Personal Information provided by you.
Information Collection and Use
For better experience, while using the Application we may require you to provide the Foundation with certain personally identifiable information, including but not limited to INTERNET, ACCESS_NETWORK_STATE, ACCESS_WIFI_STATE, WRITE_EXTERNAL_STORAGE, READ_EXTERNAL_STORAGE, MANAGE_EXTERNAL_STORAGE, REQUEST_INSTALL_PACKAGES.
The information that we request will be retained by the Foundation and used as described in this privacy policy. The information is retained is used
to respond to any request/​issue raised in the App
to provide notifications on progress of such request/​issue
to utilise for internal assessments, measures, operations or any other lawful purpose
We do not collect any Personal Information while using the Application. In the event any Personal Information is collected during the usage of the Application the same shall only be used for the purpose of improving and providing better experience of the Application to the User.
Sharing Data with Third Parties
Link to privacy policy of third-party service providers is used by the app.
If you do not want third parties to be able to access or use your personal data, you should not register for, click on or use the applicable third-party Application or product.
Google Play Services
Firebase Analytics
Crashlytics
Modification to Privacy Policy
Our Policy may change from time to time. We may, at our discretion (unless required by applicable laws to mandatorily do so), email periodic reminders of our notices and conditions, unless you have instructed the Foundation not to, but we encourage you to check our Application/Webpage frequently to see the recent changes. Unless stated otherwise, our current Policy applies to all information that we have about you and your account. We stand behind the promises we make, however, and will not materially change our policies and practices making them less protective of customer information collected in the past without your consent.
Privacy Grievances
If you have any questions about this Policy, wish to exercise your rights, have concerns about privacy of your data or any privacy related grievances in respect of the Webpage/Application, then please register your complaint with a thorough description via email to ________________________________________.
GOOGLE PLAY SERVICES
LOG DATA
We want to inform you that whenever you use our app, in a case of an error we collect data and information (through third party products) on your device called Log Data. This Log Data may include information such as your device Internet Protocol ("IP") address, device name, operating system version, the configuration of the Application when utilizing our Service, the time and date of your use of the Service, and other statistics.
Webpage/Application
Security of your Information
We use administrative, technical, and physical security measures to help protect your personal information. While we have taken reasonable steps to secure the personal information you provide to us, please be aware that despite our efforts, no security measures are perfect or impenetrable, and no method of data transmission can be guaranteed against any interception or other type of misuse. Any information disclosed online is vulnerable to interception and misuse by unauthorized parties. Therefore, we cannot guarantee complete security if you provide personal information.
We share the information collected as per terms of this Policy only in the manner specified hereinbelow. We do not sell or otherwise disclose Personal Information we collect about you for monetary or other valuable consideration. Further, only authorized our representatives and on a need-to-know basis use any information received from you and as consented by you. In the event of any identified unauthorized use or disclosure of information or upon your complaint as stated under the 'Grievances' section below, we will investigate any such complaint and take the appropriate action as per the applicable Data Protection Laws.
Affiliates and Subsidiaries: We may disclose information about you to our affiliates, subsidiaries and other businesses under the same control and ownership, and their respective officers, directors, employees, accountants, attorneys, or agents, who need the information to help the Foundation provide the Services or process the information on our behalf. We require our affiliate, subsidiaries and other businesses under the same control and ownership to follow this Privacy Policy for any Personal Information that we share with them. Further, if you have availed any Service that is offered by our Affiliates/Subsidiaries, then we may share your Personal Information with the relevant Application/ Platform, who may also communicate with you regarding certain other products/services offered by them separately via email, phone, SMS and/or such other mode of communication; you will always have an option to opt out of receiving some or all of such promotional communications through the unsubscribe link in the email or such other option that may be communicated to you.

Legal Disclosures: We may disclose information about you in response to a court order, or other governmental request. Without limitation to the foregoing, we reserve the right to disclose such information where we believe in good faith that such disclosure is necessary to:

comply with applicable laws, regulations, court orders, government and law enforcement agencies' requests;
protect and defend Our or a third party's rights and property, or the safety of the Application, our users, our employees, or others; or
prevent, detect, investigate and take measures against criminal activity, fraud and misuse or unauthorized use of our Webpage/Application and/or to enforce our Terms and Conditions or other agreements or policies.

To the extent permitted by law, we will attempt to give you prior notice before disclosing your information in response to such a request.

With Your Consent: We may share and disclose information with your consent or at your direction. While the processing of your Personal Information is based on your consent, you have the right to withdraw your consent at any point in time in accordance with this Policy. Please note that, should the withdrawal of consent result in the Foundation not being able to continue offering our Services to you, we reserve the right to withdraw or cease from offering our Services to you upon your consent withdrawal. You may withdraw consent by contacting the Foundation with a written request to the contact details provided in the 'Grievances' section above. Upon receipt of your request to withdraw your consent, the consequences of withdrawal may be communicated to you. Upon your agreement to the same, your request for withdrawal will be processed
Your information may be shared for reasons not described in this Policy, however, we will seek your consent before we do the same or share information upon your direction