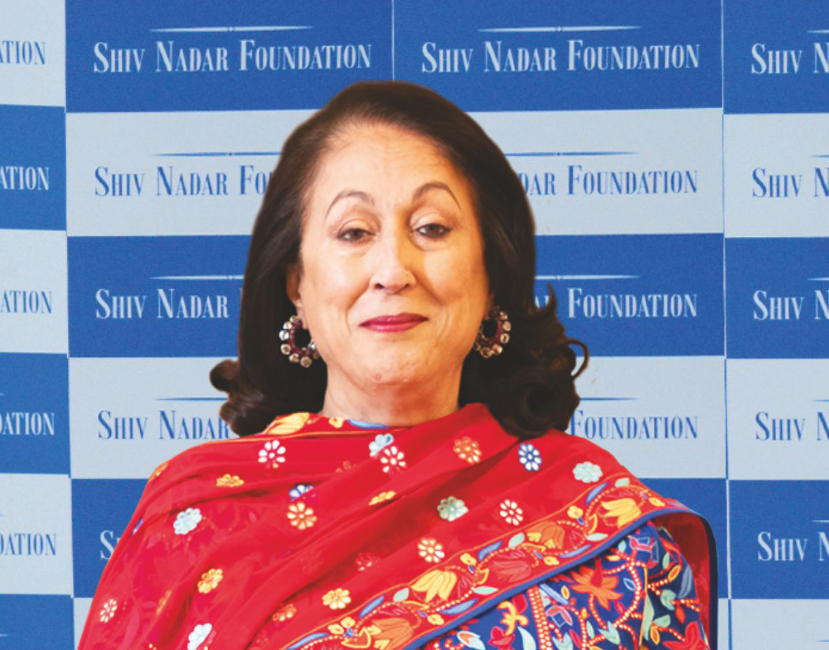 Kiran Nadar
Kiran Nadar has profoundly shaped and inspired the Indian art world, becoming a pivotal force in the country's cultural landscape, with an influence and vision that has increased the visibility of Indian modern and contemporary art worldwide. Through her vision, consistent efforts and unfailing enthusiasm she has given India a global platform that showcases and promotes Indian art – The Kiran Nadar Museum of Art (KNMA), established in 2010. Her continuously expanding, diverse art collection today comprises over 7000 plus artworks representative of all major phases of modern and contemporary Indian art, showcased at the two KNMA spaces with a combined display area of ~50,000 sq. ft. Kiran has not only established KNMA as an exhibition platform for new art forms, ensuring art's accessibility to people, but under her guidance KNMA also drives dynamic outreach programs to nurture a museum-going culture among Indian youth.
Kiran has forged stellar collaborations with globally renowned museums including the Museo Nacional Centro de Arte Reina Sofía (Madrid), The Metropolitan Museum of Art (New York), Tate Modern (London), Musée Des Arts Asiatiques, (Nice) and Musée Guimet (Paris) in a short span. Kiran was the driving force behind the India Pavilion: Collaboration of Ministry of Culture, KNMA, CII and NGMA: Our time for a Future caring: at the 2019 La Biennale, the Venezia.
Kiran is also passionate about Bridge and is an acclaimed international-level Bridge player. She is one of the top Indian players of competitive Bridge and represented India at 2018 Jakarta Palembang Asian Games, winning Bronze in the mixed team category. She has also won several laurels as a member of the "Formidables" team, leading it to victory at the Commonwealth Nations Bridge Championships 2018, bringing gold to India after 12 years. She is the driving force behind the HCL International Bridge Championship, which has been in existence for 18 years now.
Kiran is married to Shiv Nadar, Founder, HCL & Founder & Chairman, the Shiv Nadar Foundation, and shares her husband's deep commitment towards philanthropy. She has been instrumental in helping set up the Shiv Nadar Foundation which has invested ~ $1.2 billion to create institutions of transformational education, nurturing India's next-generation of leaders. Today, the Foundation's institutions include SSN Institutions in Chennai, among the top private engineering colleges in India; the interdisciplinary Shiv Nadar University in the National Capital Region (NCR) and the recently launched Shiv Nadar University in Chennai. In the school education space, the Foundation has established VidyaGyan schools in Uttar Pradesh that provide free, world-class education to rural toppers from economically disadvantaged backgrounds and Shiv Nadar Schools in the NCR, consistently recognized among the top schools in the country. Shiksha, an innovative technology-led intervention in education by the Foundation, envisions creating a literate and empowered nation.
Kiran is a member of the Rasaja Foundation which has been involved in a joint initiative with the Rajiv Gandhi Foundation to promote the education of the Dalit and Muslim girl child in some of the most backward districts in Uttar Pradesh in India.
Kiran has been consistently recognized for her contributions to Art and Philanthropy. She was awarded 'Collector of the Year 2018' by India Today Art Awards and was one of the awardees for India Today Art Awards 'Public Art of the Year' for the India Pavilion at the Venice Biennale 2019. Kiran was voted one of the 100 most influential people in the contemporary art world on the most established ranking in contemporary art, compiled by the UK-based Art Review.
Kiran started her career at MCM followed by a stint at NIIT - a company that grew out of Shiv Nadar's vision for computer education in India. Kiran was responsible for shaping the NIIT brand building strategy in its formative years with Rajendra Pawar.
Kiran lives in Delhi, India with her husband Shiv Nadar and enjoys time with her daughter Roshni and son-in-law Shikhar and her grandchildren.