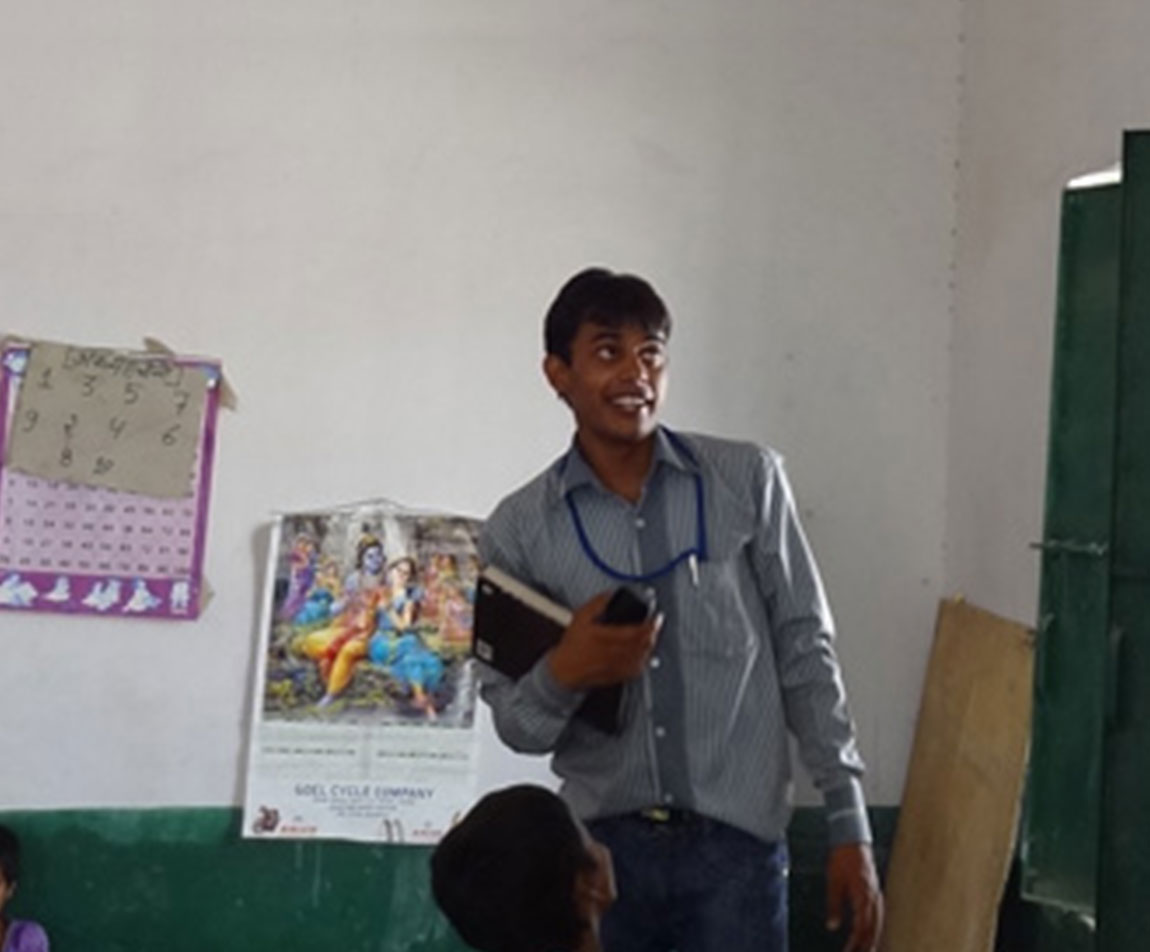 Arvind Kumar Yadav
Stories from the Field is a series of interviews with people form the Shiv Nadar Foundation who work with children, youth and other beneficiaries. It provides an uninhibited and unconventional view of the on-ground efforts they undertake and the impact of their work on the lives of the beneficiaries as well as on the society.
Bringing a new perspective to education in rural India, armed with digital tools and single-minded perseverance, this is the story of Arvind Kumar Yadav working with the Shiksha Initiative in Uttar Pradesh.
3 years ago, Arvind joined Shiksha Initiative, a Shiv Nadar Foundation endeavor piloted in Uttar Pradesh with the aim of transforming the quality of education in rural schools through technology-based learning. Hailing himself from Jaunpur, a small city in UP, Arvind saw first-hand the complex issues that surround education in rural areas. With a Bachelors degree in Education and having worked previously with the Pratham Education Foundation, Arvind joined Shiksha driven by its vision to eradicate illiteracy in India through innovative learning.
Tell us about your journey so far.
I joined the Shiksha initiative while it was still in a nascent stage, as part of a 4-member team tasked with initiating and piloting the project in the first 4 schools. Our focus was on how to bring technology-aided learning into rural classrooms to complement the role of teachers and enhance the students' learning. Over the last few years, I have worked with both private and government schools in rural UP to create interactive digital content for primary classes and train teachers in ICT-based teaching.
What do you feel has been your biggest contribution?
One of the biggest challenges while developing a new learning tool is the assessment of the tool itself. With a regular assessment, one could not be sure if the result is due to the student's capabilities or due to the efficacy of the learning tool itself. Thus, a rigorous set of checks need to be in place. So I worked with the team to develop a new assessment framework that works not as an examination but rather an evaluation of the student.
The assessment is broken down into 5 parameters to see which aspect of the knowledge are being well received and retained - Connecting, Understanding, Operational, Analytical, and Application. At each level, questions are evaluated to ensure the assessment paper matches the level and grade of the student. These parameters ensure that we test the child based on the learning outcomes and objectives of the chapter, while also assessing the student's ability to learn and retain different aspects of the same concept.
What has been your biggest learning?
I have worked in the field of education for over 8 years now. Like most people, my goals also revolved around monetary and professional growth. But my experience with Shiksha has brought about a change in perspective, in how I approach my work and the people who are affected by it each day. The children are my biggest motivation. Giving them the sort of learning that I couldn't get at their age makes me feel really proud and motivated.
I started off working very closely with the children. And I realised that teachers play a huge role in children's lives. With the background and conditions these students come from, they need a teacher who not only provides classroom education, but someone who can give them affection and care and guide them about what is right and wrong. In this sense, although I am not involved in teaching the students, I feel like I am a teacher to them. My role in their lives didn't end with my work – I speak to them about important things like hygiene, respect for elders, and learning right from wrong. This sort of guidance and interaction has built deeper bonds and really helped me understand their problems.
Moreover, the school teachers see this interaction and it stands as a model of how they coould bond with the kids and build better understanding. Teachers in rural schools face a unique set of challenges – they are overburdened with work, often with the kind of work they are not trained for and which does not come under the purview of a teacher. So beyond training, we aim to consistently give them optimism and support to find solutions together. Sometimes, they need to put in more energy than a normal teacher in a normal situation, invest more time and often get less in return in monetary terms. It is the happiness and growth in the children that is the only reward. And as long as that drives them, we will never run out of energy. We will always make more time. And we will keep learning and growing, together.